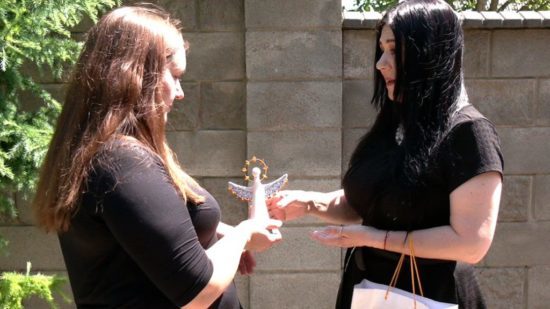 "Angels of Victory" for killed volunteers: Association of Charities of Ukraine run a special program to support volunteers and families of volunteers who got injured and killed in the process of delivery of humanitarian aid. Unfortunately, there are too many of them now, and for them we introduced a special program called "Angels of Victory".
In the future, we plan to commemorate these people and organize financial assistance to them and the families of the deceased volunteers / philanthropists. We are also looking for appropriate funding for this part of our activities and to help their families.
In the context of the on-going military invasion of Ukraine by Russian troops, Ukrainian society today needs the help of foreign partners more than ever.
The first "Angel of Victory" posthumously awarded "For selfless service to the people of Ukraine and volunteer work " volunteer fron Rivne region  Serhiy Ilchuk. "Angel of Victory": statuette of "Angel good "and financial assistance were handed over to Serhiy's wife and 6 childrens.
Serhiy Ilchuk lived in the village near Rivne, worked as a construction foreman, had a wife, a daughter and five sons, the oldest children was 19 years old, the youngest – only two. Since the beginning of the full-scale Russian invasion of Ukraine, a man became a volunteer, began delivering humanitarian aid to the area of ​​active hostilities and rescued about 300 Ukrainians from occupied Kyiv region. In early March, Serhiy went on his sixth trip, which was fatal for him. Near the village of Borodyanka, a car marked "Evacuation", in which he was, came under devastating fire of Russian invaders. Sergey with numerous injuries turned his car and drove to the nearest checkpoint. Ukrainian defenders injected hemostatic and took the man to the hospital. But the volunteer could not be saved, he died on March 17, 2022 in the hospital. He was only 41 year.
More information in video: https://www.youtube.com/watch?v=prvtETieC3c