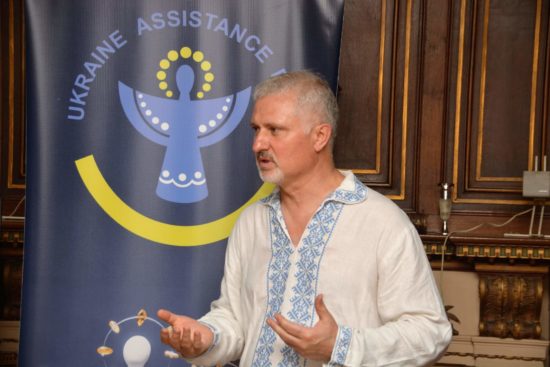 26.06.2022
Welcome Letter from Oleksandr Maksymchuk, President of the Association of Charities of Ukraine (Ukraine) and Ukrainian Assistance Fund (USA).
Dear friends and colleagues, 
We sincerely greet everyone who joined us today for our Grand Opening of the Ukraine Assistance Fund #UAFUND in the USA. For many years, the Association of Charities of Ukraine has the honor and pleasure of conducting different projects and representing the best Ukrainian philanthropists and charities. They are the ones who are truly committed to making our country better in all spheres of our life – health, social, environmental issues, education, science, culture, restoration of historical heritage, protection of Ukraine. Our projects are designed to connect people and we're proud of the work of our team in Ukraine and now in the USA. Through our work in the United States, we seek to support the members of the Association and show the world the depth of the modern Ukrainian tragedy – the big war in Ukraine.
On February 24, 2022, Russia launched a full-scale, unjust war against Ukraine. Great loss of lives, destruction of civilian infrastructure, huge numbers of refugees and victims, a humanitarian catastrophe – that's what this disaster has brought. Ukrainian philanthropists, volunteers, and the whole world at-large have already played a huge role in the support of the Ukrainian people and defense forces in overcoming the tragedy they face.
The Ukraine Assistance Fund is excited to provide everyone the opportunity to find their own method of charitable assistance to Ukraine. Today, real charity and community development should take place in the synergy of business, philanthropists, and the media all aroud the world. Combining the efforts of all participants in the process, and supporting each other is the basis of systemic charity and responsible citizenship. Partnership and cooperation make our work more efficient and productive. Therefore, the Association of Charities of Ukraine is just a platform for those who are looking for partners or interesting projects, this is an opportunity to show a powerful charitable potential of Ukrainians.
We sincerely thank you, dear friends and colleagues, and wish you new victories and achievements, and for Ukraine and its citizens – well-being, prosperity and peace.
Oleksandr Maksymchuk,
President of the Association of Charities of Ukraine and Ukrainian Assistance Fund