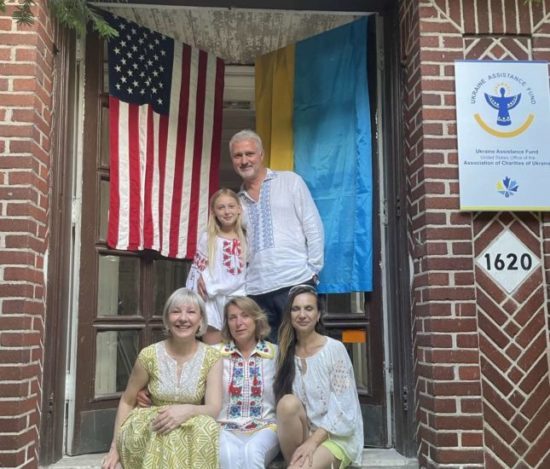 Dear friends and colleagues,
We'd like to share with you the good news – on June 26, 2022, the Association of Charities of Ukraine in Brooklyn (USA) presented the official representation of the Association in the United States – Ukraine Assistance Fund #UAFUNDUS. UA Fund is a non-profit organization officially registered in the United States.
The activities of the organization were solemnly presented in an old house on 1620 Ditmas Ave in Brooklyn. The presentation began with a musical sketch N.5 by Ludwig Schitte performed by Taisiya Maksymchuk and anthems of the USA and Ukraine. The President of the Association of Charities of Ukraine Oleksandr Maksymchuk addressed the honorable meeting. He acquainted everyone with the long-term work of the Association of Charities of Ukraine and presented the foundation, which is its representative office in the United States. The part of the board of directors of the newly created fund was presented to the participants: vice-presidents Ivana Lotoshynski and Marina Krupitskaya, the executive director of the fund.
As part of the solemn event, a project to create a Ukrainian information and cultural center in the premises where the presentation was held was presented. The tasks of this center will be the presentation in the United States of Ukraine and leading Ukrainian charitable structures, holding cultural, artistic, educational and informational events, presentation of projects and programs.
The center's first exhibition was a display of paintings by the American artist from Odessa, who has lived in the United States more that 30 years. Ukrainian embroidered shirts of modern masters were presented at the exhibition. Guests of the event also had the opportunity to view the poster of the famous American politician, writer Eugene McCarthy (1916-2005) with his own signature, which is part of a large collection of homeowners. The exhibits from the private collection of the owners of the old UA Fund office house will be part of the center's exposition, which will be constantly changing and thematically complementing the planned events.
Among the distinguished guests were representatives of charitable, public and business organizations in the United States that actively help Ukraine: "Revived Soldiers Ukraine", "Razom", "New Wave", Ukrainian American Business and Professionals Association (UABPA), Meest America and others.
As part of the presentation, a 4th grade student of the Solomiya Krushelnytska Lviv State Music Lyceum, a young Ukrainian pianist Taisiya Maksymchuk, performed. Four pieces of music were performed. During the unofficial part, the guests had the opportunity to listen to Ukrainian songs performed by Ivanna Lotoshynska and the couple Yulia and Oleksandra Maksymchuk.
More about Ukraine Assistance Fund: https://en.vboabu.org.ua/uafund
Facebook page: Facebook