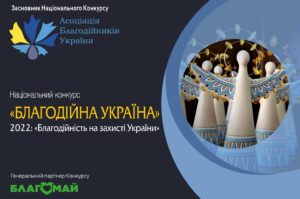 We are delighted to invite you to participate in the National Competition "Charitable Ukraine – 2022": Charity to support Ukraine's Defense. For many years, the Association of Charities of Ukraine has the honor and pleasure of conducting this Competition and representing the best Ukrainian activists and volunteers, philanthropists and charities.
They are the ones who are truly committed to making our country better in all spheres of our life – health, social, environmental issues, education, science, culture, restoration of historical heritage, protection (defense) of Ukraine. Every year almost thousand organizations from all over Ukraine and from abroad compete in more than 26 nominations and who prove that the traditions of charity in Ukraine are worthy of continuation. We see how projects become more systematic as the quantity goes into quality, as creativity and innovation make our communities more cohesive, as even the most difficult social problems and challenges are overcome due to your professionalism and efficiency.
National contest "Charitable Ukraine" is an annual All-Ukrainian competition, founded in 2007 year by the All-Ukrainian Charitable Association "Association of Charities of Ukraine" inaimed at the development of effective socially-oriented philanthropy, charity and volunteering in Ukraine through public stimulation of the best philanthropists, activists and volunteers, their organizations and initiatives.
We'd like to invite foreign businesses, volunteers and philanthropists, public figures and charitable organizations that help Ukraine (nominations: Assistance from abroad and Charity of Foreign Companies (the nomination was implemented in partnership with the Blagomay Charitable Foundation) to participate in the Competition.
We want to thank everyone who help Ukrainian military fight Russian aggression; everyone who help Ukraine in all aspects of this fight – rescuing civilians, helping IDDs and refuges, Ukrainian veterans. We also would like to say the words of personal gratitude to large business from abroad, without which today it is impossible to revive our cities, towns and communities.
Further information about the competition can be obtained at the official website www.blagoukraine.org / https://vboabu.org.ua/Facebook: BlagodijnaUkraine/ Organizing Committee: tel.+38 (067) 16 40411, E-mail: [email protected].
Application submitting procedure: Applications are accepted on-line on the: www.blagoukraine.org. Final application deadline for the Competition is April 30, 2023.
Looking forward to your participation at the National Competition "Charitable Ukraine – 2022": Charity to support Ukraine's Defense.