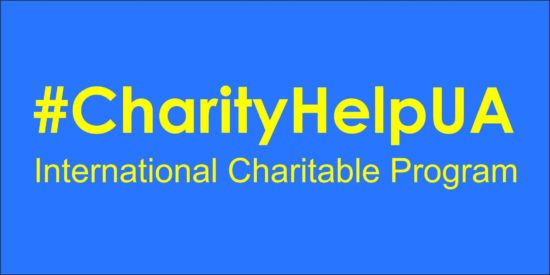 Dear friends!
We would like to inform you that the Association of Charities of Ukraine created and became the coordinator of the charity program #CharityHelpUA. The goal of the program is to unite the efforts and resources of the association's members, partners and philanthropists to help protect Ukraine from Russian aggressors and overcome humanitarian challenges related to hostilities.
By the decision of the Board of the Association, the functions of the Program Operator in the medical and logistical direction were delegated to a member of the Association – the Institution of the Center for Medical Innovations (NOVO Medical Center), located in Lviv. The action program of the NOVO Medical Center is called #NOVOhelp.
Human resources and technological capabilities allow us and our partners in a short time to establish coordination and logistics in accordance with the declared goal.
The idea of the program is to try to combine the financial and material capabilities of our Western partners, who have already expressed their desire to help us, so that this assistance is as effective as possible, not duplicated, so that resources are not diverted to something insignificant, secondary.
The key direction of this program is the search for financial and material resources to provide the military and civilian population with medicines, medical, sanitary products, import of medical equipment for the restoration of destroyed health care facilities, etc.
Our partners have already provided the first batches of such assistance, which were formed by them, based on their understanding of our needs.
Let's help each other together! We do mutual good through mutual trust and support!
Contact phone:
Oleksandr Oliynyk 067 495 5427 (Lviv)
Information reference
NOVO Medical Center has been operating for over 7 years and is one of the leading and recognized diagnostic centers in Western Ukraine. NOVO employs highly qualified and experienced medical staff, including doctors with scientific titles and national recognition. NOVO's leading specialists are members of Ukrainian and international associations and professional associations and regularly participate in seminars and conferences both in Ukraine and abroad in order to improve their skills and exchange experiences. The patients of the institution are not only residents of Lviv and Lviv region, but also the whole of Ukraine.
UBF "Center for Medical Innovation" became an associate member of the Ukrainian-American Business Council (USUBC: U.S. Ukraine Business Council.
NOVO Medical Center implements the Charitable Program "Innovative Diagnostics in NOVO Medical Center", which is approved to meet the objectives set by the founding documents of UFF "Medical Innovation Center" in accordance with the Law of Ukraine "On Charitable Activities and Charitable Organizations" No. 5073VI of July 5, 2012. The charity program is based on the principles of open and transparent reporting, effective use of charitable contributions (donations), targeting and targeted use of funds. It is aimed mainly at providing medical care to children of all ages, starting with infants. For this purpose, agreements were concluded with the Territorial Medical Association №1 of Lviv (a separate unit of St. Nicholas Hospital), Western Ukrainian Specialized Children's Medical Center, Lviv Regional Children's Clinical Hospital "OKHMATDIT", Municipal Enterprise "Lvivnoda" of Lviv Regional Council.
Official site – https://www.novo.lviv.ua (temporarily unavailable due to a failure in the hosting company)
Facebook – https://www.facebook.com/NOVOCENTRE
Instagram – https://www.instagram.com/medicalcenter_novo/
Youtube – https://www.youtube.com/channel/UC5Fo21FRTMMHh7EABDrkflw
PROGRAM DIRECTIONS #NOVOhelp
Providing medical diagnostic and advisory assistance to internally displaced persons from areas of hostilities and other cities of Ukraine.
Delivery of medicines from Europe, sorting in warehouse areas and targeted shipments for military and civilian areas to combat areas.
Delivery of medical equipment for the organization of medical care in Lviv.
Involvement and employment of refugee doctors from areas of hostilities and other cities of Ukraine. Fundraising to support volunteering and medical activities.
Information reference
The All-Ukrainian Charitable Organization " Association of Charities of Ukraine " was established in accordance with the Law of Ukraine "On Charitable Activities and Charitable Organizations" on a voluntary basis for non-profit purposes and has 48 members from different parts of our country. For 15 years in a row, the team of the Association has been organizing the National Charitable Ukraine Competition, in which hundreds of charitable, public, volunteer and business structures from Ukraine and the world take part every year. In fact, the Association covers the entire territory of Ukraine.